Let's Nurture Your Child Together

Place2Be is an activity based child development centre offering services of a preschool.
The preschool has multiple programmes for children in the age group of one to four years. The preschool is fully equipped to address the modern day challenges which children often experience.
Some of these are:
Being Disruptive & distracted.
Difficulty in developing friendships.
Loss of concentration.
Lack of interest in physical activities.
Frequent complaints of headaches, stomachers, nausea etc. without actual manifestation of the actual.
Regressive behaviour like bed wetting, throwing tantrums, being disruptive & violent. Low motivation levels.
The Preschool provides a caring & nurturing environment with a well planned child centric curriculum to address the needs of social, emotional development of children.
Place2Be lays great emphasis on child friendly environment, creativity, imagination and self-esteem.
The curriculum entails an an individual growth and development plan for every child. Place2Be maintains the most optimal teacher, child ration with limited class strength for the programmes.
About Our Founder & Director
Ms. Piya Seth is a practicing child psychologist with specialization in providing counselling support to children. She completed her double masters in child psychology with specialization in counseling for children from the University of Nottingham, United Kingdom. She has a varied experience of having worked extensively with Infants and children of various age groups, both in India and in abroad.
While in the United Kingdom she worked with a charitable organization that provides counselling support to children in about 250 schools. Ms. Piya Seth has also been providing counseling & therapeutic support to children in some of the most prestigious schools in Delhi.
Ms. Seth, firmly believes on use of an activity based child development programme to help unlock child's potential. She employs a very collaborative approach amongst parents, teaches and therapists for progressive growth and creative development of the child.
What The Place2Be Families are Saying
My son joined the summer camp at Place2be in 2019. They have a range of interesting and exciting activities planned for kids of varying age groups. Their staff is friendly and seems to enjoy being around children which brings out the best in the children. I would highly recommend this place as my son had a wonderful time!

Prerna Wahi


21st June 2019

Lovely experience at Place2Be preschool. Loved the way teachers teach here & all staff members are very friendly. Thanks a lot!!

Joshita Srivastva


25th October 2019

A great start for little ones to play, share and learn together. The patience, care and understanding given by the staff to each little individual personality is amazing. Mine was a very sensitive and difficult little one who is now so well adjusted and grounded in his new school environment. Can't thank you enough Place2Be!

Pamela Nath


14th June 2019

Being a working women, I could not trust any creche or play-school which will handle my child with care like the way we do at our home. But after enrolling my daughter I feel the decision to choose Place2be was correct. The school is properly maintained and quiet hygienic. The best part is all the teachers are amazingly good. They love each child as there own. The warmth they give to my daughter made me so touched. The teaching concept and understanding each kid is immensely appreciated. Yes this should be "Place2be" for your kid, I would say😊

yamini khurana


25th October 2019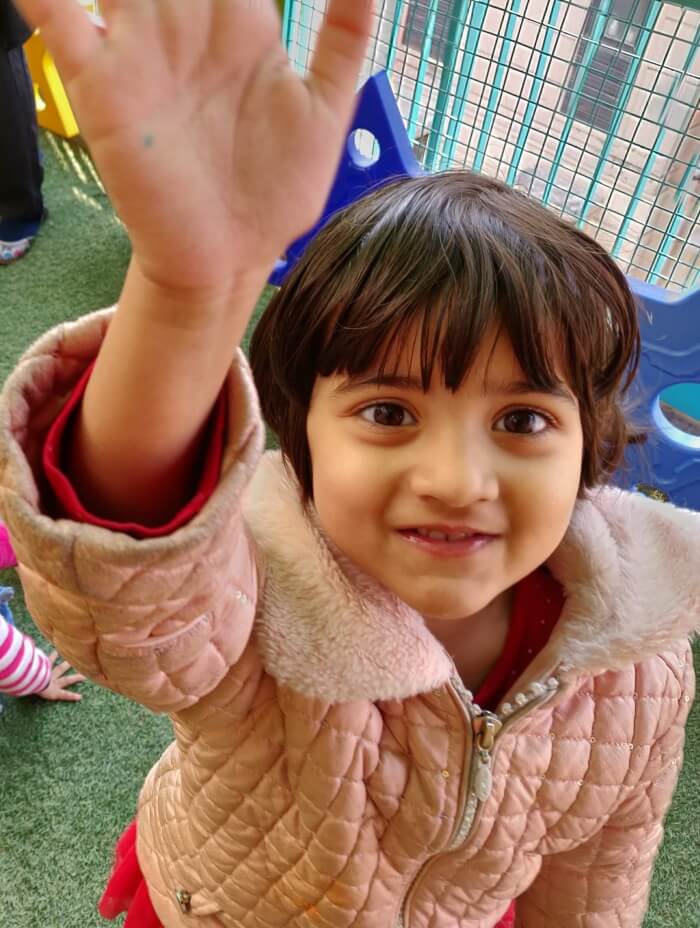 Is it common for my child to cry in the first few weeks of joining Place2Be preschool?
It is quite natural for a child to feel insecure and anxious when he/she begins schooling. This is a transitional phase and we need to be sensitive to the child's needs during this period. This anxiety varies and can be more pronounced in some cases.This needs to be addressed collectively by the parent and the teacher, without any discomfort to the child. Simple techniques with an extremely low ratio of 1:1 between the teacher and the child with a nurturing environment can be very helpful. Further through an interaction with the parents, it is important for the teacher to identify the likes and dislikes of the child, so that the likes can be more emphazied. Gradually the child should be encouraged to build a social, healthy interactions amongst their peer group.
In case the child's discomfort level continues it is also advisable for the parent/home support to be allowed to be generally present in the school to give the child the desired confidence.
How do parents keep a track of the child development and progress?
Fundamentally, every child's development is based on the collective effort of the parent and teachers. This necessitates a frequent communication amongst the parents and the teachers both on an individual and collective level. This communication helps in providing the desired encouragement and fostering a healthy environment for the child.
We recommend weekly feedback through various forms of media and regular interaction amongst teachers, parents & therapists. We also recommend periodic activities wherein parents & their children participate together.
How does Place2Be preschool prepare my child for the formal school?
Our Programs our based on the premise that every child is unique and has his/her own unique strengths. Therefore our focus is on amplification of his/her strengths with integration of the following essentials:
Being Healthy
Creative/Imaginative
Be Numerate
Be Literate
Being Expressive
Being Kind & Considerate
Being Social
The programs designed help the child to develop a well balanced and rounded personality encompassing all parameters of emotional development, cognitive ability and social skills.
We are confident that on graduation from Place2Be preschool the child will be expressive, confident with interactive skills and socially well adjusted.
Enrollment
Fill the admission form on our enrolment page and instantly enrol your child into Place2Be pre-school.
Event Calendar
Know more about all the wonderful events being held at Place2Be for our more than wonderful children.
Gallery
Check out our Gallery, filled with moments that make Place2Be the wonderful child-friendly place that it is.
Get In Touch
Location:
N-137, Greater Kailash Part-1, New Delhi 110048
Telephone: 9810907497
Email: [email protected]
School Hours: M-F: 9:30am - 3:30pm